Return to Headlines
Thousand Oaks Rotary Honors 22 CVUSD Students for Excellence in Citizenship
On Thursday, May 25th the Thousand Oaks Rotary hosted the 37th Annual Youth Citizenship Awards to honor one student from every CVUSD elementary and middle school for their demonstration of integrity, goodwill and service to others.

With local dignitaries and their parents, each student received a special plaque to commemorate their recognition during the mid-day Youth Citizenship Awards Program. The Thousand Oaks Rotary defines Citizenship as, "the quality of an individual's response to membership in a community."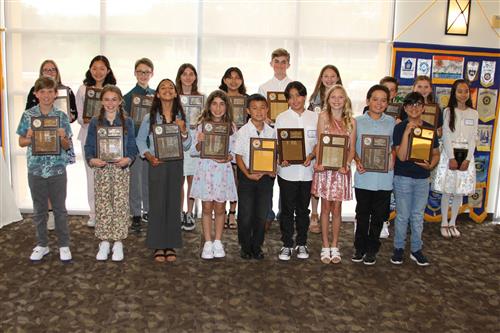 Please join us in congratulating the 2023 CVUSD Youth Citizenship Awardees:
Acacia Magnet School for Enriched Learning: Abigail S. described as being committed to good behavior. Respectful, honest, kind.

Aspen Elementary School: Rose J. described as being a good leader and helpful to students. She donates time to various charities.

Banyan Elementary School: Evelyn N. described as a Role Model, gives time to support others, raises money for local animal shelter & Ukraine.

Colina Middle School: Emma R. described as friendly, caring, supportive. A positive and powerful role model.

Conejo Elementary School: Jimi S. described as a positive role model, eager to embrace learning, respectful, helpful honest.

Cypress Elementary: Brielle A. described as an outstanding leader, on the honor role, volunteers at her temple– Training her alpaca to be a service animal.

EARThS Magnet School: Alexandra H. described as supportive of classmates, kind to others, helping hands volunteer, kind spirit who serves others.

Glenwood Elementary School: Erika B. described as always kind, lends a hand, respectful to students, teachers and staff.

Ladera STARS Academy: Ellen G. described as volunteers for everything-on the honor role a student leader.

Lang Ranch Elementary: Darren C. described as an exemplary student. He is on the student council and Boy Scouts.

Los Cerritos Middle School: Layla W. described as strong, determined, passionate, student body President, respectful.

Madrona Elementary: Charlie G. described as helping others, contributor to his school and community. On the Honor Role, a Boy Scout, a Dear Trusted Friend.

Maple Elementary: Sal E. described as an outstanding student, quiet leader, helping others, on student council, a role model.

Redwood Middle School: Jace W. described as accepts responsibility, student leader, humanity, kind, compassionate.

Sequoia Middle School: Paola O. described as a leader, helping hand to others, health clinic worker, makes people feel like they belong.

Sycamore Canyon Elementary: Ansen A. described as kind, supportive, motivating, Pure Sunshine. Strong student and role model.

Sycamore Canyon Middle: Riley S. described as respected and admired, manages the student body budget, excellent student, has integrity.

Walnut Elementary: Sebastian L. described as exceptional leadership and citizenship. Boy Scout, responsible, respectful, serves his community.

Weathersfield Elementary: Avni M. described as an excellent straight A student. Girl Scout, participated is Band and GATE, Rock Climbing and toy drive.

Westlake Elementary: Amaya W. described as putting her heart into every task, she sings, a Girl Scout, plays the flute is great academically, community outreach.

Westlake Hills Elementary: Caleb L. described as a fantastic role model, quiet, confident, tries to make the world a better place. In his heart to be helpful.

Wildwood Elementary Kelsey M. described as well deserving, is kind, inclusive, on student council, Girl Scout, academic leadership.

Thank you to the Thousand Oaks Rotary for celebrating our students!