Return to Headlines
Meet the 2023 Ventura County Teacher of the Year: Debbie Dogancay from Newbury Park High School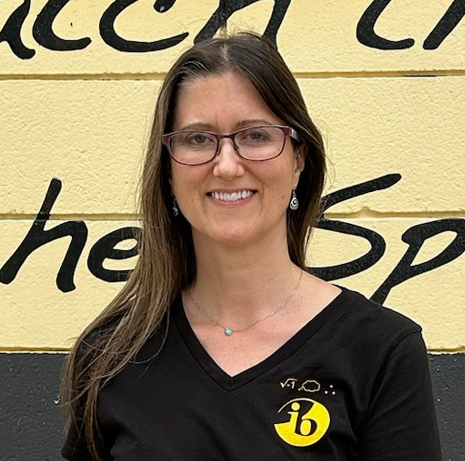 Dr. César Morales, Ventura County Superintendent of Schools, is pleased to announce that Debbie Dogancay from Newbury Park High School (NPHS) in the Conejo Valley Unified School District is the 2023 Ventura County Teacher of the Year. Dogancay found out about the honor on Friday, May 19th when a group of local education officials made a surprise visit to a school faculty meeting.
Dogancay is a veteran educator who has taught at NPHS for 22 years. She currently teaches chemistry in grades 11 and 12. In addition to her teaching duties, she was a longtime student government advisor and is actively involved in leading professional development workshops for her fellow educators. She is also the coordinator of the school's lnternational Baccalaureate (IB) program and is helping to implement IB programs at the elementary and middle school levels.
"Debbie is an excellent teacher and advisor, not to mention a wife and a mom of two amazing kids," said NPHS principal Steve Lepire, Principal. "I don't know how she does it all! Debbie always has a great attitude and never seems frazzled despite her heavy workload and many responsibilities."
Dogancay never intended teaching to be a long-term career, but she changed her mind after realizing that every year brings new challenges and new opportunities to make a difference for students. She calls teaching a complex and rewarding profession that involves much more than simply relaying information to students. "There has to be more to that knowledge than just a disconnected patchwork of facts," she said. "Students need to see connections between certainties to build enduring understandings, and knowledge needs to be rooted in the real world to construct a meaningful conceptual framework."
With technology changing at breakneck speed, Dogancay believes teaching methods need to evolve along with it. "We live in a time where we no longer need to memorize facts," she said. "Because we now live in a world with artificial intelligence, we need to assess in real-time, face-to-face, to know that our students are the voice behind their writing."
For Dogancay, teaching is a two-way street and she appreciates the opportunities she has to learn from her students every day. "I see teaching as a calling in a way, and I find that the more I put into it the more I get out of it. I genuinely want to give back to the community that has given so much to me."
As Ventura County Teacher of the Year, Dogancay is now in the running to be the California Teacher of the Year.
More about the Teacher of the Year Program
The Teacher of the Year program is administered by the Ventura County Office of Education. Candidates are nominated by their district, school or professional organization. A panel of educators selects the winner based on the candidate's essay, experience and an introductory letter from their sponsor. Winners at the county level become eligible to be considered for the California Teacher of the Year award. The first Ventura County Teacher of the Year was named in 1973. Additional information about the Teacher of the Year program, including a list of past honorees, is available by clicking here.