Return to Headlines
Congratulations Kelley Stone, Selected as the New Principal of Ladera STARS Academy!
At the Wednesday, May 17th Board of Education meeting, Kelley Stone was approved as the new Principal for Ladera STARS Academy.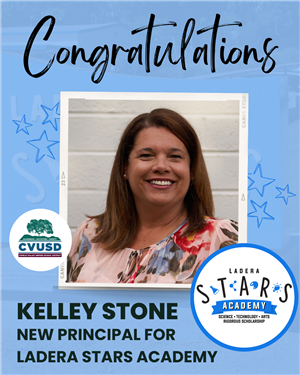 Ms. Stone is a resourceful and detail-oriented educational leader with extensive experience in curriculum development, instruction designing, professional training, learning and development initiatives, and systems implementation oversight. She is centered on creating collaborative, positive learning environments that promote a culture of inclusivity.

She has more than a decade of experience as a school administrator, most recently serving as a middle school principal in the Ojai Unified School District. Prior to her more than ten years as a school administrator, Ms. Stone served as a Social Science teacher at the high school level, and has professional experience in marketing and public relations. She will begin her new role as the Principal of Ladera STARS Academy on July 1st.

"We look forward to welcoming Kelley Stone to her new leadership role with the Conejo Valley Unified School District," said Dr. Dena Sellers, Director of Elementary Education. "Ms. Stone's knowledge of education technology trends, combined with her skillset of developing innovative, mission-centered, and sustainable programs are just a few of the qualities that make her a great fit for leading the Ladera STARS community."

Ladera STARS Academy is one of CVUSD's magnet schools, dedicated to providing students with innovative, engaging academic experiences featuring STEAM elements (Science, Technology, Engineering, Arts and Math). At Ladera STARS Academy, students are inspired to reach for the STARS through explorations in Science, Technology, Arts and Rigorous Scholarship.

Ms. Stone earned a Master of Arts in American Studies from Pepperdine University, and a Bachelor of Arts in Political Science from University of California, Los Angeles. She also holds a California Administrative Services Credential, California Single Subject Professional Clear Credential in Social Science, and California Cross-Cultural Language and Academic Development (CLAD) Certificate.


Congratulations, Ms. Stone and welcome to Ladera STARS Academy!