Return to Headlines
Lang Ranch Fifth Grader Gregory Places 8th Nationally in the SIFMA Foundation's National InvestWrite® Competition
Benjamin Franklin once said, "An investment in knowledge pays the best interest." Gregory is getting a head start in investing. Now in 5th grade at Lang Ranch Elementary School in Thousand Oaks, California, Gregory pored over his research into the financial markets to build an investment portfolio geared for long-term financial success. His approach led to a thrilling achievement in the SIFMA Foundation's Fall 2022 InvestWrite competition.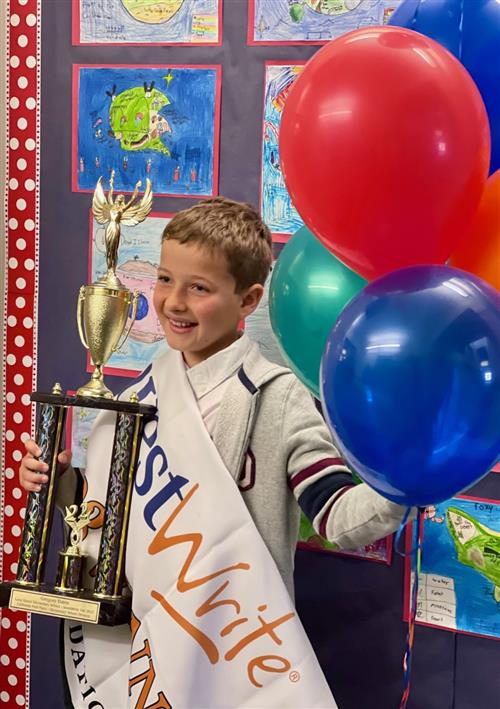 Gregory competed among thousands of other students around the country to write the best essay about long-term investing and the capital markets in the elementary school division. Gregory and his teacher, Andrea Ackmann, were honored by the SIFMA Foundation during a virtual presentation on March 27, 2023.
SIFMA Foundation's InvestWrite national essay competition bridges classroom learning in math, social studies, and language arts with the practical research and knowledge required for saving, investing and long-term planning. It also serves as a culminating activity for The Stock Market Game™, a curriculum-based financial education program that challenges students to manage a hypothetical $100,000 online portfolio of stocks, bonds, mutual funds and cash over a semester or school year.
SIFMA Foundation's programs are proven to increase participants' test scores in math and economics, encourage students to think more about budgeting and financial planning, enable them to work in teams to build their interpersonal social-emotional learning and better prepare them for college and careers. The SIFMA Foundation is committed to closing the opportunity gap by fostering greater knowledge of the financial markets for young people of all backgrounds, with a focus on underserved youth.
"I am thrilled to congratulate Gregory, his teacher and their school," said Melanie Mortimer, President of the SIFMA Foundation. "Through participation in the Stock Market Game and InvestWrite, Gregory has acquired insights and gained confidence to embrace financial opportunities, research and make informed financial life decisions, and achieve better financial life outcomes."
Gregory has a handle on the power of compounding: "The stock market is a continuous line that reaches a height and then falls back down. Research is essential to decide whether the stock, bond, or mutual fund is worth investing in. Analyzing all the factors leads to success. Finally, let your money work for you to achieve new heights in the stock market."
The Fall 2022 InvestWrite competition presented the following challenge to 4th-12th graders –
There are valuable research sources to help you make informed choices when developing your Stock Market Game investment portfolio. Discuss what you think are the most important things to research and use those to select a portfolio of stocks/bonds/mutual funds you think will be successful in the long-term. Explain why your selections will make good long-term investments.
Gregory captivated the panel of thousands of expert judges from across the financial services industry with a thoughtful and insightful essay.
Winning Essay by Gregory …
First, research is crucial to develop an intelligent strategy for The Stock Market Game.
"Becoming a successful investor in the future should be effortless when you understand and let the market do the work for you." - Adam Messina.
This quote never fails to teach the real trick to earning money in the market. With this tactic, I also hope to become a successful investor in the future. I want to be able to buy properties and have money for my retirement fund in the long term. In order to grow your opinion on each factor of the game, you must research the graphs and identify whether or not the stock, bond, or mutual fund is stable. Research is also helpful when deciding if a stock should be bought or sold depending on the patterns in the past. To conclude, research can help create a portfolio of trusty companies.
Second, there are many different research sources that benefit you and give you an advantage in research. Some of the research sources you can use include Yahoo! Finance, MoneyWeek, Newday, Investopedia, MSCI, and more. These have the definitions for concepts such as beta and the P/E ratio as well as stocks and their rating. Also, through The Stock Market Game, you can check the list of "Newday rated sustainable companies" bonds, stocks, and mutual funds. Therefore, these research sources can assist you in your search for a beneficial trade.
Third, there are a few critical tools I research in order to identify if a stock is doing well. Beta is very important because it compares a company to the overall stock market. Using S&P 500, the volatility of a stock is measured. The P/E ratio is also essential. It identifies whether or not you are getting a profit by comparing the amount you spent per share to the amount you earned from that share. I know if I should keep or sell a certain number of shares based on the price-to-earnings ratio. Market cap is helpful to investors as well because it shows the true value of the company and its full expense. It helps me understand the risk of investing in that company.
Last, these investment strategies can be really advantageous.
In addition, stocks, bonds, and mutual funds have different functions. These tools can help us use stocks to their fullest potential. Beta and the P/E ratio are tools you can use to understand the company's current gain or loss.
Mutual funds are something you can invest in as well. It is an investment where a businessman prepares and organizes the mutual fund. Next, bonds are also helpful. They are a loan you give a company. Over time, the company pays back the loan. There are three types of bonds. Corporate, municipal, and treasury bonds are the ones that exist. You can lose money from bonds, but it is always a small amount. ESG is vitally important with bonds because you want to make sure that the company you are giving a loan to supports your beliefs, environmental effects, etc. In the end, stocks, bonds, and mutual funds can work magic if used correctly by the investor.
Moreover, there are several excellent stocks in my Stock Market Game portfolio. For instance, Dollar Tree (DLTR) is a company that profits its buyer. Market cap helped me understand its expense and the P/E ratio gave me information about the company's well-being after I bought it. Other useful stocks include Chevron Corporation (CVX), Inspire Medical Systems, Inc. (INSP), Merck & Co., Inc. (MRK), Yum! Brands, Inc. (YUM). For these companies, beta is vital because I constantly need to keep an eye on the stability of these stocks that alter very quickly. Experts consider a good beta to be closer to 1.00 and a P/E ratio to be between 15.00 and 17.50. An average market cap lingers around the $50.00B mark if it is big enough. Take the Chevron Corporation which has a market cap of $357.704B. This suggests that this is an enormous company with a huge value. Its beta is 1.20 and P/E ratio is 10.52. This shows that it is more volatile than the market, but the price per earning is extremely cheap. All in all, tools and strategies help organize your portfolio.
The stock market is a continuous line that reaches a height and then falls back down. Research is essential to decide whether the stock, bond, or mutual fund is worth investing in. Analyzing all the factors leads to success. Finally, let your money work for you to achieve new heights in the stock market.
About the SIFMA Foundation
The SIFMA Foundation is committed to closing the opportunity gap by fostering greater knowledge of the financial markets for young people of all backgrounds. Drawing on the support and expertise of educators and the financial industry, the Foundation provides financial education to strengthen economic opportunity across communities and increase awareness of the benefits of the global marketplace. Since 1977, the Foundation's most notable program, The Stock Market Game, has guided more than 22 million students on their path to financial independence by attaining stronger life skills, improving academic achievement, and boosting their social-emotional learning. For more information on the SIFMA Foundation, visit www.sifma.org/foundation.
About InvestWrite®
InvestWrite® is a culminating activity for Stock Market Game students extending their classroom learning with a written challenge to address real-world financial issues and situations. Students must analyze, think critically and problem solve about a long-term saving and investing scenario. More than 260,000 student essays have been evaluated by their teachers and over 40,000 financial professionals have served as volunteer judges. Essays are judged by financial professionals who volunteer their time each year to ensure young people are exposed to the essentials of personal finance early in life. Judges evaluate students' understanding of long-term investing, diversification, the global capital markets, and factors that drive investments as well as their expression of investment ideas in essay form. Winners locally and nationally rise to the top to earn exciting awards including laptops, classroom pizza parties, trophies, plaques and banners, and certificates.
For more information about InvestWrite®, visit www.investwrite.org.