Return to Headlines
Congratulations to Emily Stone of Colina Middle, CVUSD's April 2023 Teacher of the Month!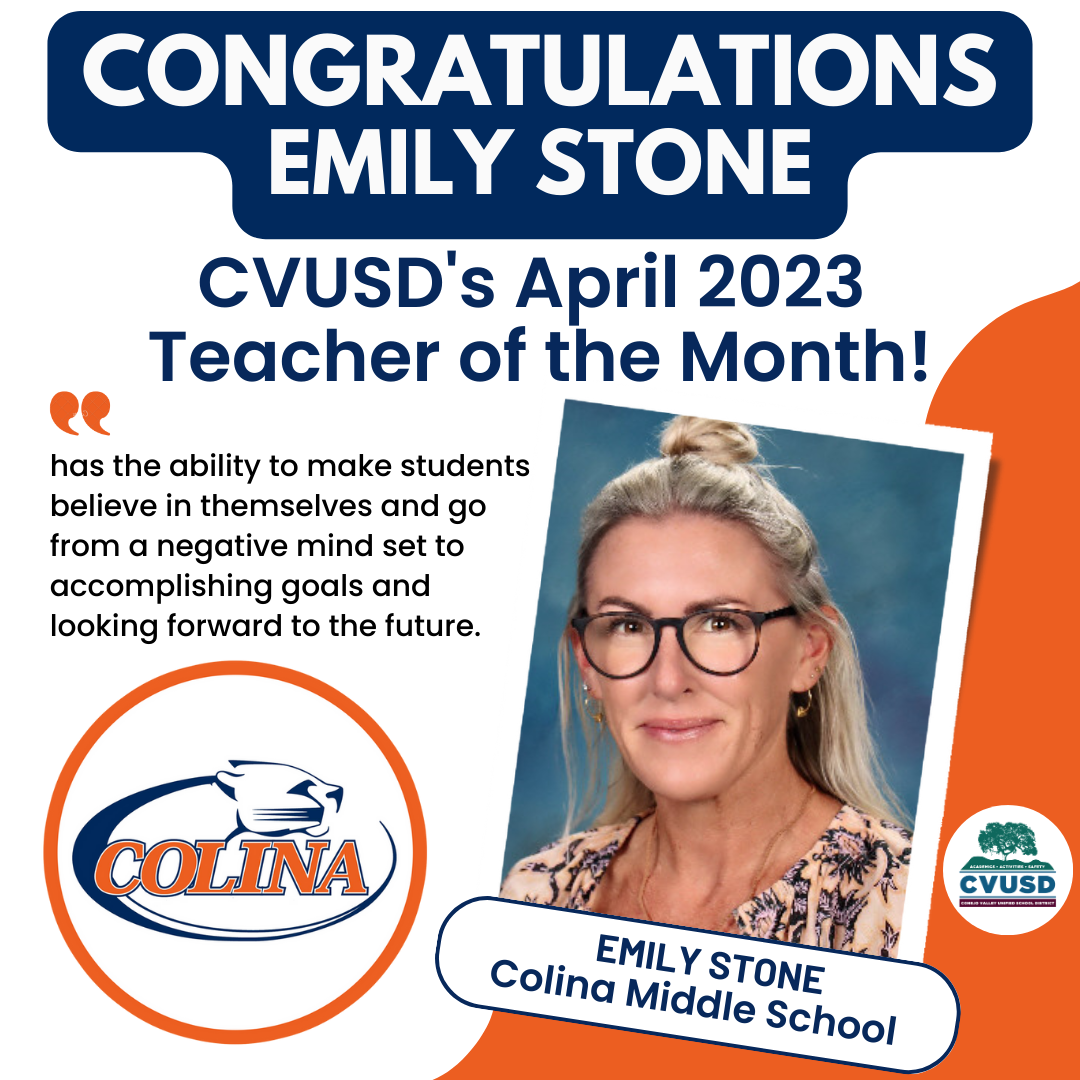 Emily Stone radiates passion and a zest for learning with an endless amount of energy. A current 8th grade English teacher at Colina Middle School, Ms. Stone has been making a positive impact on the Colina campus for a decade. We and the Greater Conejo Valley Chamber of Commerce are proud to honor Ms. Stone as the CVUSD April 2023 Teacher of the Month!
Ms. Stone is a leader in the classroom. She researches and employs instructional methods that engage and inspire her students. She creates meaningful and relevant lesson plans that provide connections between the subject matter and students' lives.
She goes above and beyond to support students and provides extra help and guidance to students during prep periods, at lunch, and during nutrition break.
She has the ability to make students believe in themselves and go from a negative mind set to accomplishing goals and looking forward to the future.
She communicates with families and keeps them up to date with their students' challenges and successes.
She is well respected by colleagues, students, and parents.
Ms. Stone's impact expands far outside her classroom walls. She works with the WEB program making 6th grade students feel welcome in a new school environment. She also volunteered to run the 6th grade lunchtime soccer program and coach the girls' basketball team.
She is truly an all-star who is the first to volunteer, the first to make a suggestion a reality, and the first name mentioned as a student's favorite teacher.

On Tuesday, March 14th, the Greater Conejo Valley Chamber of Commerce and the Conejo Valley Unified School District surprised Ms. Stone with the April 2023 Teacher of the Month recognition during a regularly scheduled Colina Middle School staff meeting. Ms. Stone was presented with a commemorative plaque honoring her special recognition. Congratulations, Ms. Stone and thank you for the immeasurable difference you make on the Colina campus each and every day!

*Note: The April Teacher of the Month presentation was held in March out of necessity for the District to host all of its monthly Teacher of the Month recognitions prior to the County's deadline for Teacher of the Year submissions and the District's Teacher of the Year announcement.